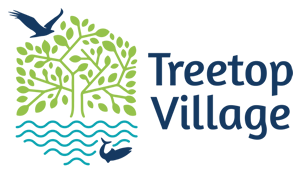 Welcome to Treetop Village!
Office Hours
Monday thru Thursday 9:00 a.m. – 5:00 p.m.
Friday 9:00 a.m. – 7:00 p.m.
Saturday 9:00 a.m. – 5:00 p.m.
Sunday 9:00 a.m. – 7:00 p.m.
Greetings! The Treetop Village staff is looking forward to your upcoming visit. Our cleaning staff is working extra hard and taking every precaution available to lower the risk of COVID-19. So far, we have not had any situations reported involving the virus.
As a friendly reminder to owners, all Association assessments, fees and late payment charges due must be paid for all units you own before you can check in to your unit.
Tell Us About Your Arrival
To best prepare for your vacation, we need to know a few details about your arrival. Please read all information below, then fill in the requested information, then click to submit your form. An email will be sent to the Treetop Village office along with a copy email to you. If your information changes before your arrival—no problem. Simply come back to this section of the website and submit another Notice of Arrival for Vacation.
Check-in and Check-out
Check-in and Check-out at the Treetop Office at the address above. The office is located at the first Treetop entrance if you are heading west on Highway HH. Look for building 3 with a parking lot in front of the building.
Check-in time is 4:00 – 7:00 p.m. on Friday and Sunday. Check-out time is no later than 10:00 a.m. on your check-out day. You must check out by 10:00 a.m. so we can clean the unit for incoming vacationers. Sorry, but no leeway.
You must be at least 21 years of age and be identified by the name you submit on this form to check-in to your unit. Anyone under 21 must be accompanied by an adult 21 or over while occupying the unit.
If you plan to arrive after closing time (see office hours above) please notify our staff and we will arrange for a late check-in. If you fail to notify us of a late check-in and you arrive after the office closes you must wait until the next morning to check-in during normal office hours.
More Important Information About Your Stay
In case you were to need emergency assistance during your visit, please note that your unit number is different than your 911 address. Your 911 emergency address that you would give on a 911 call is posted on an address sign at the entryway to your unit and also in the black binder inside your unit. In both places, the street address is your 911 address, not the unit number. Use the grey address at the top of the sign for 911, not the unit number.
Sorry, but no pets under any circumstances. If you bring a pet you must keep the pet off the property. If you are caught with a pet in the unit you will incur a cleaning fees of $250. We love pets too but we are obligated to protect the units for all other owners. Service dogs are allowed but must be accompanied by proper documentation at check-in.
We do not have elevators or handicap ramps on the property. Some units have lots of steps. If steps are a concern, please call the office and find out if this unit is compatible for you.
The maximum occupancy for 2-bedroom units (units 2-30) is six (6). Maximum occupancy for 3-bedroom units (units 53-110) is eight (8). This includes all infants and children. If your group is larger than the maximum you will need to find other accommodations. Sorry, but this is a fire code and insurance requirement that we cannot waive.
No smoking in the units – but you have nice decks with beautiful views and 24 acres of woods for your smoking pleasure.
Each unit accommodates parking for two vehicles.
The unit is stocked with amenities such as bar soap, dish soap, dishwasher detergent, laundry soap, trash bags, coffee, coffee filters, paper towels, and toilet paper. If you need additional supplies they can be purchased in the office. All linens, towels, and kitchen towels are also provided for your use. We do not provide shampoo or conditioner.
Due to fire codes, no grills of any kind are allowed inside or on the decks of the units. We have charcoal grills at the pools but we do not provide charcoal, lighter fluid, or cooking tools.
We do not provide towels for the swimming pools.
Boat Slips, Trailer and Extra Vehicle Parking
There are two types of boat docks available for your stay.
• Uncovered 11' x 23' slips are free to use on a first-come basis.
• Covered 10' x 26' slips rent for $75 per week on a first-come basis.
Covered rental slips must be reserved with the office before you arrive. You can check for space-available after you arrive but your chances are much lower.
Trailer, boat, and extra vehicle parking is available on property free of charge. Ask the office for the location of the parking lot when you arrive.
Damages
Your credit card will be swiped when you check in. If you cause damage, the amount of your damage will be charged to your credit card. Please don't damage the unit. It's expensive for you and a lot of extra work for us.
Now the Fun Stuff! – But don't forget to scroll down and fill out the information we need
We are fortunate to be located in the heart of Four Seasons where you will enjoy extra amenities, events, and local discounts. Our Lake of the Ozarks Convention and Visitor's Bureau provides information on a broad range of things to do during your Lake vacation. To find dining, attractions, golf, fishing, shopping, spa and health resorts, getaways and more, go to www.FunLake.com
As a guest of Treetop Village, you have access to Four Seasons activities, amenities, events, and locals discounts on dining and more. Amenities include other swimming pools, playgrounds, tennis courts, a fitness center, interior lakes, campgrounds, basketball, bocce ball, boat ramps, and boat storage. To enjoy many of these amenities plus receive discounts at local establishments you must have a Four Seasons Proximity Card, which you will be given upon check-in. To see the benefits of the Proximity card go to the Four Seasons POA website (www.fourseasonspoa.com) and click Amenities in the orange box on the left side of the page. In that same orange box, you will find Member Discounts (discounts at local establishments) and the Event Calendar announcing card games and other activities in Four Seasons.
The Treetop Staff and Board of Directors Want Your Feedback
The Treetop Team is striving to make your vacation experience incredible. If you have an issue, please call the office immediately and let us know so we can resolve it. If you think an issue needs Board of Directors attention, please click here and tell us what needs Board attention. Your comments will go directly to every Board member and the property manager. Let us know if you are requesting follow-up on your report and the property manager or a Board member will contact you. If we don't know about your issue, we can't resolve it.